Meet Our Team
Our staff has over 200 years of automotive experience, Many of us have been together for decades.
Learn all about us below!
Dave Dupont
Dave worked at his father's gas station thru high school and college. In 1977, he purchased the family business. In 2000, he moved the service operation to its present location and supervised our growth into one of the largest independent repair facilities in NH. He is a master certified technician with L1 certification.
James Ellis
Since: 1985. Jim began his career at Dupont's in 1985 as a gas attendant and over the years has learned all aspects of the automotive business. In 2000, Jim was promoted to Service Manager. Jim is a graduate of the Elite Masters Program. Jim is a Certified All Data Specialist & has many ASE and ACDelco Certifications.
Mike Roberge
Since: 1988. Mike has spent over 33 years in the auto repair business. He started his automotive education earning an Associates Degree in Automotive Technology from Southern ME Vocational Institute. Mike has many AC Delco certifications and is an ASE certified Master Technician. He is an expert in alignment, diagnosis & welding. Mike enjoys performing auto body repairs and painting in his spare time.
Chris Dupont
Since 2006: Chris has held various positions at Dupont's for over 10 years. He is a graduate of Keene State College with a business degree. He is part of our Service Advisor team and is a customer service expert. Chris enjoys hunting, fishing & coaching lacrosse in his spare time.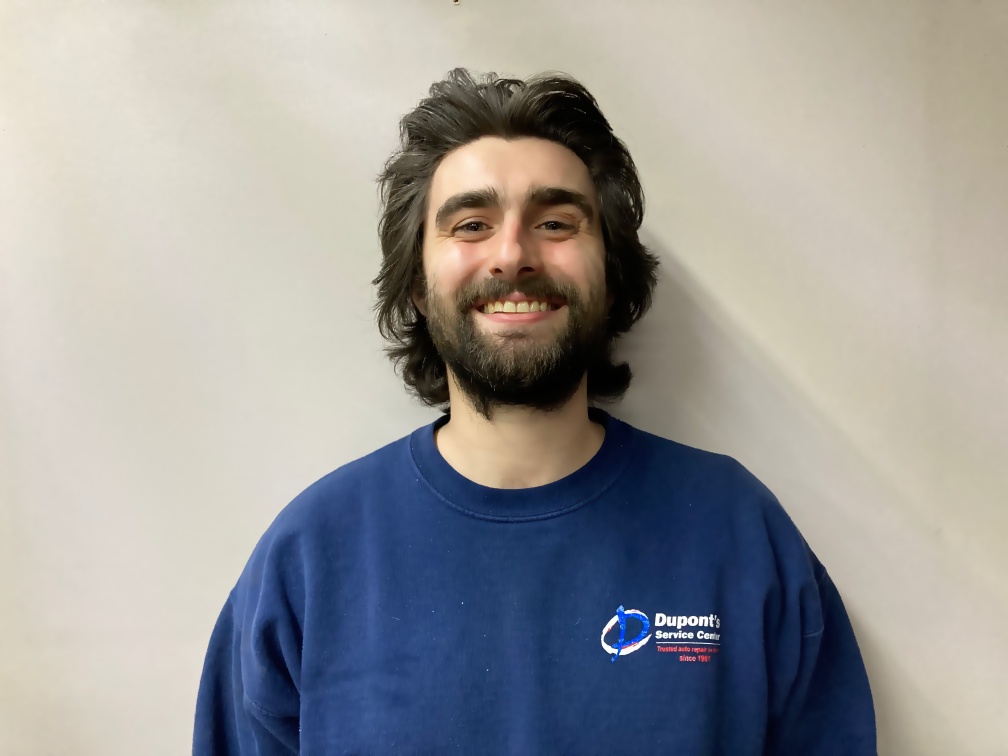 Mike Dupont
Since 2014: Michael oversees all of Dupont's marketing and IT. He holds a marketing degree from Lasell College and was on their lacrosse team for four years. He's an avid musician.
Rachel Towne
Since: 2013. Rachel manages our office and handles our accounting. With an associates degree in business science from McIntosh College, she has over 15 years experience in accounting. Rachel is also a knitting instructor & expert equestrian.
Dan Enlund
Since: 2013. Dan has spent 30 years in the automotive repair business. He's an ASE Master Certified Technician and also holds certifications in hybrid vehicles, advanced electrical work, and school buses. Dan enjoys riding his motorcycle in his free time.
Nick Madison
Since 2014: Nick is an automotive service technician. He graduated from the Dover High Regional Vocational Center with a degree in automotive technology. Nick is a ASE certified Master Technician. He is an off-road vehicle enthusiast.
Jackie Porter
Since 2009: Jackie has been in the automotive industry for over 20 years. Jackie is an ASE certified service advisor. Jackie enjoys spending her free time with family, camping & fishing.
Jay Merril
Since 2018: Jay has been in the automotive industry since 2003. He has an associates degree in Applied Sciences and Automotive Technology. In his spare time he likes to modify Jeeps with performance upgrades. Jay is a huge Star Wars fans and enjoys fly fishing in his free time.
Chris Farrell
Since 2018: Chris has worked in the automotive industry since 1988. He is an ASE Certified Technician with expertise in GM & Toyota. Chris enjoys riding his motorcycle in his free time.
Scott Sherman
Since 2019: Scott has been in the auto industry for 10 years. Scott started working full time at a shop in Quincy, MA in 2010. In 2017 Scott opened his own shop for a few years before joining us here at Dupont's. Scott's specialty is European vehicles. Scott enjoys riding motorcycles in his free time.
Chris Deragon
Since 2020: Chris graduated from Universal Technical Institute in 2005. Chris worked a number of automotive jobs as well as working at a small independent dealership in RI for 6 years before finding his way to us. Chris likes to play disc golf and watch sports in his free time.
Andrew Janelle
Since 2020: Andy started his automotive education at Dover High School under instructor Keith Austin. Andy has recently received his license for NH state inspections and prides himself on never being late to work. Andy enjoys skateboarding & working on his Subaru WRX in his free time.
Bryon Kelly
Since 2020: Bryon's responsibilities around the shop include maintenance of all equipment inside and out, assisting technicians, keeping the office and shop clean, running for parts and transporting customers.
Keith Austin
Since: 2009. Keith has spent over 25 years in the automotive repair business. Keith is an ASE Certified Master Tech, an AC Delco Certified Technician, and an HVAC Specialist. Keith is particularly knowledgeable in electrical systems and diagnosis.